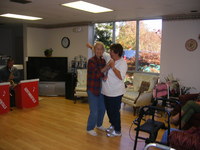 When our mother had a stroke in 2002, my sisters made a list of assisted living facilities to look at. They went to Carefree first, and didn't bother to look at the rest. It felt like home immediately. A smaller intimate setting with terrific staff made an easy transition for Mom.
I came down to visit about a month after Mom moved in. I asked how she liked it. Mom said "Oh, I love it. I don't have to cook or clean and the people are so nice." One of my sisters or I were there every month and got to know the staff & became friends with many of the staff and other residents. Scott and the staff ALWAYS made us feel welcome. They went out of their way to help us and make all of us feel at home.
We can't say enough good things about Scott & the atmosphere that has been created at Carefree. The residents live in a loving atmosphere & have the opportunity to get connected to other residents. In a large facility, it is easy to get "lost". That can't happen at Carefree. For those people who want to feel a part of something, rather than just have a nice apartment in an impersonal environment, I think Carefree is a wonderful choice.
Steve Everett
Carefree Living offers assisted living that promotes health, safety and well-being for the residents that live there. My mother found a new home at Carefree living where she receives the help she needs while still maintaining her privacy. Personal touches include catering to mom's dietary restrictions, managing her prescriptions and frequent visits from local musicians and entertainers. The friendly and skilled staff at Carefree Living offers transportation to the store or the doctor for Mom.
As only child that lives out of state it was important to me that Mom live in a place that provided support beyond her immediate care. I am able to communicate directly with owner Scott Flippo via e mail or phone. Recently mom was having trouble identifying which forms I needed to do her taxes. I sent Scott an e mail and he helped mom mail the requested information. Scott also responded well to my request for changes in mom's prescription coverage. This type of support is especially important to out of state families.
Carefree Living has provided me with peace of mind when it comes to my mother's care and well being. The loving care and individual attention the residents get contribute to a home-like environment in which my mother is truly happy.
John Ulmer